Table of Contents
Rock Band 3 PS3/Wii Keyboard USB to MIDI Software (RB3KB-USB2MIDI)
This program aims to emulate the Rock Band Keyboard's native MIDI mode using the USB interface so that it may be used wirelessly and without a MIDI cable. Reddit page that lead to this.
Downloads and source code at: http://jasonharley2o.com/projects/rb3usb/keyboard/
See also:
RB3KB-USB2PSKB

for translating RB Keyboard to (PC) keyboard for Phase Shift.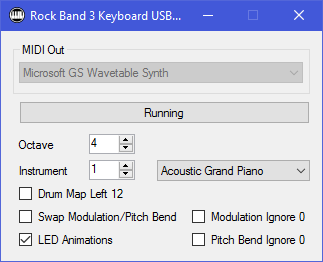 Requires
If you want to compile it yourself you'll need LibUsbDotNet and midi-dot-net - the packages on NuGet will do.
Usage
Install the LibUSB filter driver on your keyboard, keep in mind this is per USB port.
PS3: "vid: 12ba pid:2330"

Wii: "vid: 1bad pid:3330"
With a virtual MIDI device program running, run RB3KB-USB2MIDI, select your virtual device and click "Doing Nothing" to run.
Current Features from Native
All 25 keys with velocity (although the implementation may be incorrect).

Changing octave/program using the top four buttons, or from the GUI.

All Notes Off panic (Select/Home/Start together).

Slider touch strip controlling Modulation and Pitch Bend (with overdrive button held down).

LED animations (may break PS3 keyboards).

Drum map the left 12 keys by pressing Up on the D-Pad, or from the GUI.

Pedal for Sustain
Extended Features
Press Down on the D-Pad to swap Modulation/Pitch Bend, or from the GUI.

Press Left to reset Pitch Bend.

Press Right to reset Modulation.

Option to ignore the keyboard's 0 value for Modulation and Pitch Bend (i.e. disables the auto-reset).
Missing Features from Native
The other pedal modes (expression and volume), the RB1 pedal does not work for these so I can't test what the raw data looks like.

The Select/Home/Start buttons being able to control some programs.
Bugs
Toggling Drum Mapping from the GUI won't change the LED even with Animations enabled.

The program will randomly crash when the keyboard is turned off or asleep (unconfirmed).

Changing octave/program using the GUI is unreliable.

Not really a bug, but

RB3M-USB2MIDI

is a separate program for the Mustang Pro Guitar, and doesn't support MIDI-Pro Adapter for either Keyboard or Guitar (but something I could do).