Table of Contents
NTR Viewer Plus
There's already pretty neat software for 3DS wireless streaming and input redirection such as Kit-Kat, however I thought Kit-Kat was missing two major features:
Rescaling the screens without relaunching.

Touchscreen input with the bottom stream.
There's also Kit-Kat-Touch that's a mod of Kit-Kat but it's not a one-click solution and still no scaling. cuteNTR has rescaling but doesn't seem to have input redirection at all; it's also written in C++ and aimed for Linux. Doesn't look like I could just resize the windows though.
Rather than modify Kit-Kat I decided to reimplement the NTR protocol myself in a C# program using OpenTK/OpenGL which handles the dynamic scaling and mouse input.
Update: With a recent Luma update adding input redirection (that supports ZL/ZR/C-Stick), I've added being able to swap to using that instead of with BootNTR (which still does the video streaming).
No release yet, it's still missing some features Kit-Kat has and not sure if I'm satisfied with the stream performance.
If you want to preview the code: https://github.com/Jas2o/NTR-VP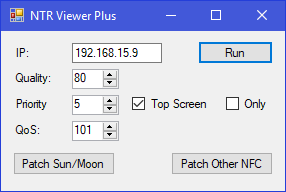 Missing/Planned Features
Keyboard input (may never be implemented)

Automatic gamepad selection (currently fixed to vendor/product ID)

ZL / ZR and C-Stick input (not supported by Input Redirection?) Luma IR supports this.

Automatically finding the 3DS's IP address

NTRViewer Console / Debugger

FPS and stream quality.

Live settings update (seems only the first NTR connect sets the settings)
Issues
When Xbox Controller falls asleep some inputs are sent.

The generic NFC patch doesn't allow Input Redirection or reconnecting (seems to affect Kit-Kat as well). Using Luma's IR it'll patch NFC without this issue.

There's no indication that the connection has dropped.

You can't click the same pixel on the touchscreen twice in a row.

The touchscreen has a drift the further from the center you click. This affects both X and Y in letterbox and pillarbox.

Can't use ZL and ZR at the same time with an Xbox controller (the triggers are technically the same axis). Using XInput would solve this but I kinda don't want to… How many games need you to press both anyway?